Harvard University researchers have built tiny flying robots that can pollinate crops instead of real bees!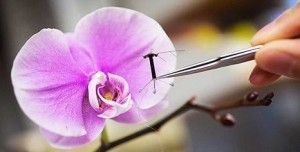 Honeybees, which pollinate nearly one-third of the food we eat, have been dying at unprecedented rates because of a mysterious phenomenon known as colony collapse disorder (CCD). The situation is so dire that in late June the White House gave a new task force just 180 days to devise a coping strategy to protect bees and other pollinators. The crisis is generally attributed to a mixture of disease, parasites, and pesticides.
Other scientists are pursuing a different tack: replacing bees. While there's no perfect solution, modern technology offers hope. Last year, Harvard University researchers led by engineering professor Robert Wood introduced the first RoboBees, bee-size robots with the ability to lift off the ground and hover midair when tethered to a power supply.
Read more at Business Insider . . .