It's no secret that industrial robots are taking over manufacturing. The global robotics market is expected to exceed $40 billion by 2020. Robots are being used to speed up production and increase productivity at lower cost. (Robots can work 24/7 without benefits!) More sophisticated robot arms can now assemble products and even weld.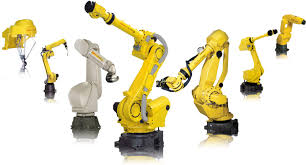 Some Industrial Robotics Facts:
China and Japan are the largest robot markets in the world.
The automotive industry has the largest robotics market size among all the industries.
Some major players are FANUC (Japan), YASKAWA (Japan), ABB (Switzerland), KUKA (Germany), and Kawasaki (Japan).
See more at Manufacturing News.