Here is "Little Moe," an Ebola-killing machine that can disinfect a hospital room in less than 5 minutes using blasts of xenon light. It is being promoted as a robot, but sadly it is not. It must be wheeled from room to room and has no sensors to react to its environment; no autonomy or intelligence. But maybe Xenex will work on making that a reality in the near future!
The device uses the non-toxic gas xenon to create the ultraviolet rays needed to destroy viruses. It blasts 1.5 pulses per second up to ten feet in every direction to kill all kinds of superbugs including Ebola. Light that is 25,000 times brighter than sunlight is created in each flash. A study in 2011 demonstrated that the disinfection system is 20 times more effective in killing dangerous pathogens than traditional housekeeping methods.
The machine is currently being used in 250 hospitals and health facilities across the US, including a Dallas hospital where a patient with the first case of Ebola diagnosed in America was being treated. Little Moe was created by San Antonio-based company Xenex and costs about $100,000.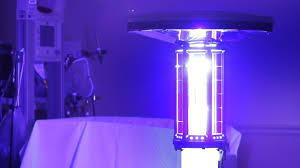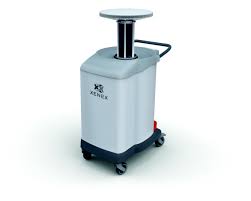 Here's a short video on how the system works. For more information see Xenex.