Guardbot is a pretty spunky surveillance device, rolling up to 20mph on land. The two-foot model can climb inclines up to 30 degrees and roll around transmitting video for up to 16 hours. It's somewhat slower in water, but still swims along amazingly well.
Guardbot's primary duty is ground surveillance and is capable of 360 degree turns. It's able to detect explosive chemicals from about 2 inches away using a spectroscope. The 2 clear domes on either side can pack 4 pounds of cargo. (Enough explosives to do a lot of damage!)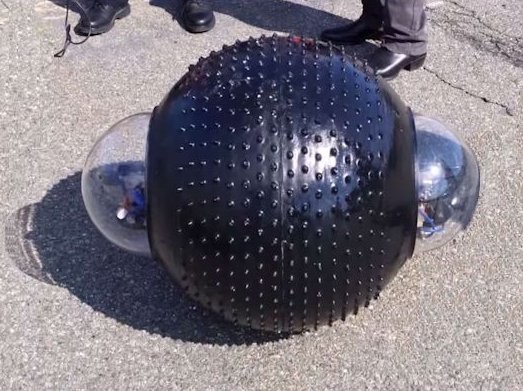 The spherical robot is scalable; the Connecticut designers can build a Guardbot as small as four inches wide, or up to nine feet in diameter. Whoa! Guardbot can be used for reconnaissance, surveillance, security, search-and-rescue, observation, as well as broadcasting. It can be remotely operated, programmed to patrol a set route, or hold a perimeter. The two cameras can be positioned independently in order to monitor conditions or check for intruders.
Watch Guardbot traverse over water, land, sand and snow:

For more information go to Geek and Guardbot.